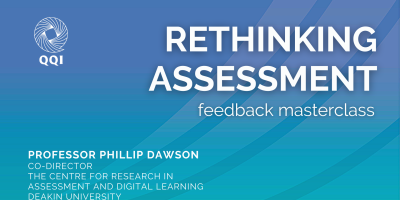 Rethinking Assessment Masterclass
It is widely acknowledged that feedback on students' performance in assessment is beneficial for learning. However, it can be challenging for teaching staff to get some students to engage with it. Assessment feedback also needs to be timely and useable by students to support their learning but this can be difficult to achieve with large cohorts.
QQI's first masterclass in our Rethinking Assessment Masterclass & Events Series was on Rethinking Assessment Feedback. The masterclass was delivered by Professor Phillip Dawson, Co-Director of the Centre for Research in Assessment and Digital Learning (CRADLE) at Deakin University in Australia, and focused on  the capabilities required for effective feedback, building on Boud and Dawson's teacher feedback literacy competency framework.
About Professor Dawson
Professor Dawson's feedback research focuses on feedback design and feedback literacy. He has received four university-level teaching and learning awards, as well as a citation from the Australian Learning and Teaching Council. He was co-lead of the Assessment Design Decisions project and a chief investigator of the Feedback for Learning project. He is currently leading the Australian Research Council project Feedback literacy for effective learning at university and beyond. His most recent books include Defending Assessment Security in a Digital World and the co-edited volume Re-imagining University Assessment in a Digital World.